SAFETY ALERT: Violence Against Health Care Workers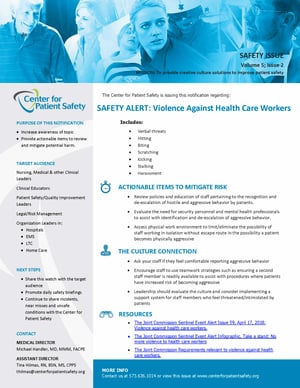 Includes:
Verbal Threats
Hitting
Biting
Scratching
Kicking
Stalking
Harassment
ACTIONABLE ITEMS TO MITIGATE RISK
Review policies and education of staff pertaining to the recognition and de-escalation of hostile and aggressive behavior by patients.
Evaluate the need for security personnel and mental health professionals to assist with identification and de-escalation of aggressive behavior.
Assess physical work environment to limit/eliminate the possibility of staff working in isolation without escape route in the possibility a patient
becomes physically aggressive.
THE CULTURE CONNECTION
Ask your staff if they feel comfortable reporting aggressive behavior
Encourage staff to use teamwork strategies such as ensuring a second staff member is readily available to assist with procedures where patients have increased risk of becoming aggressive
Leadership should evaluate the culture and consider implementing a support system for staff members who feel threatened/intimidated by patients
RESOURCES