Do something that counts and listen to your EMS people.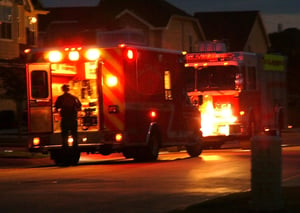 A few months ago, I wrote a blog about measuring safety culture in EMS. I outlined a few points about safety culture and why surveying should be part of an agency's readiness plan. I wanted to circle back and share a few additional thoughts as we approach EMS Week.
Over the years, EMS Week has been a way to recognize our industry and the men and women who serve on the frontlines of healthcare. While I applaud this, I'm also issuing a challenge to EMS leaders, asking they listen to their staff and assess their agencies safety culture. As a leader, one of the most important things you can do is give your team a voice or a way to be heard. What you learn might save lives and prevent future harm.
We have all heard how a negative culture can impact an organization. Some leaders might be hesitant to let their staff speak because of what they might hear. But did you know listening or surveying people is also about learning what you are doing well? As a leader, wouldn't you want to share and celebrate the great things your organization is doing? After all, isn't that what EMS Week is all about, celebrating the great things we do?
Since my last blog, here are a few things we are learning about EMS safety culture as we administer the assessment to EMS agencies around the country.
We have great Teamwork in EMS!
The preliminary national aggregate of data shows teamwork to be a consistently high scoring area for EMS. This suggests that most EMS agencies are comprised of team players who work well with one another. Why is teamwork so essential when it comes to patient and clinician safety? It's because teams that work well together are generally safer. People on the team that understand their roles are usually more respectful of one another and use a team approach to treat their patients.
We need to improve how we exchange information!
There are always things we can improve upon and exchanging information with people is one of those areas. Whether it's communicating better with a local long-term care facility, your dispatching agency, or the way you hand off a patient at the emergency department, there is likely room for improvement. I believe that improving communications starts with the right relationships. So why not set up a visit to your local long-term care facility, dispatch agency, or emergency department and get to know them.
We all celebrate EMS week in different ways; it is often framed with breakfasts, awards, and tokens of appreciation. While these are great ways to recognize staff and raise morale, I stand by my challenge in offering staff a voice. The survey is free on our website, so go ahead and administer it to your staff. If that's a barrier then let us do it, it does cost a few dollars, but it's likely less than what you would imagine. Either way, celebrate and give your staff a voice in safety.
Thank you all for doing what you do, and I hope you have a safe and happy EMS Week!
Shelby Cox
Please contact me - your employees and community are counting on you!