Nurses Week 2019
Nurses are always at the forefront of patient safety and this week is a time to celebrate all they do.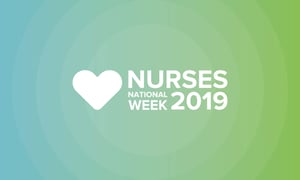 Nurse's week is coming to an end and I would like to give a shout out to all my fellow nurses! I can honestly say I'm proud to be a nurse it's because of all the wonderful, empathetic and exceptional nurses I know. There are so many different areas in nursing and thankfully we all have areas in which we are gifted.
From the NICU nurse where I started out, to where I am now, a position involved with patient safety, health informatics, leadership and quality of care, I can honestly say I've never been bored and have continually learned along the path I took. A path which included stints as adjunct faculty, camp nurse, school nurse and home-based care, I learned at every position.
What is so amazing about nurses is that they can truly do just about anything. I saw this daily when I was a supervisor in home-based care; the nurses that worked for me were some of the best and were so willing to be there for their patients. I saw it when I worked in the NICU; nurses who would be taking care of stable infants who then had one take a turn for the worse. Not only were they able to manage taking care of a critically ill infant, but if need be manage a safe handoff of their other patients to other nurses and also take the time to explain to parents just what had happened.
It takes a generous heart to be nurse and many times also nerves of steel. For one minute you may be consoling/educating a patient who has received a new diagnosis and the next you may be dealing with a child who is crying as you're giving him/her an injection or starting an IV. You would love to be doing anything other than giving them a shot or starting that IV and if you could would be crying right along with them, but you stay calm to help keep them calm.
Nurses are truly at the forefront of patient safety. We are our patients strongest advocate. We are the ones they tell when they can't afford medication, when they are scared about going home, when they don't understand a discharge instruction. It seems just natural then that nurses be the ones, through data collection and implementation of evidence-based practices, who can keep safe processes moving forward and implement new processes that improve patient safety.
In this day and age of understaffing and more duties being given to nurses, sometimes it can be hard to see all the good we do for our patients. But hopefully this one week every year, reminds every nurse that we are smart, gifted, empathetic, understanding, giving and strong. We are the backbone of healthcare. My wish for this week is for every nurse out there to truly realize just how strong and talented they really are and to take a moment and congratulate themselves!
For when next week comes around….it's back to….'playing cards'. Happy Nurses Week 2019!!