The Center for Patient Safety (CPS) is excited to join the World Health Organization (WHO) campaign to recognize the first annual World Patient Safety Day!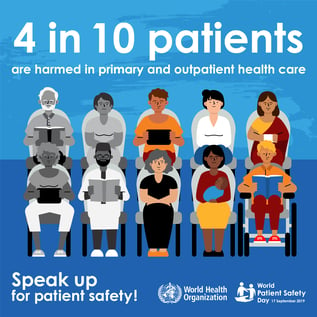 No one should be harmed in health care. And yet, every day, thousands of patients suffer avoidable harm while receiving care. We sometimes hear about these events in the news or, talk to friends and families who have endured a clinical error. But what do we know about patient safety? Evidently, not enough because patient safety events occur every day.
Let's be clear. Healthcare professionals are dedicated, compassionate, and competent people. Most clinical errors usually involve a breakdown in processes or the system and not from an uncaring clinician.
Clinical harm is similar to a cascading waterfall as it splashes and touches everything around it. Just like the waterfall, many are affected following a safety event. The patient has to live with the outcome forever, and so does their family and friends. The facility or agency involved will likely have its image and reputation harmed. But what about the clinician?
People find careers in healthcare for different reasons, but usually, it's out of a desire to help others or contribute to the healing of another person. So when there is patient harm, a poor outcome or unexpected death, often it's the clinician who shoulders the blame. Guilt and blame can cause even the most resilient to become a Second Victim.
Our mission at CPS is to reduce preventable harm, and that includes psychological harm which can reach the clinician. One way to prevent this is to ensure every care provider is healthy -- physically, emotionally, and mentally. Burnout and stress can cause medical errors.
In celebration of World Patient Safety day, CPS recognizes the clinician as the vital link who is at risk for being a Second Victim. If you are a health care professional, take a few minutes to start your healing journey by enjoying this free video. Additional "get healthy" videos are available when you become a CPS Member.